Swim safe for schools
Swim Safe is a free water safety programme created by Swim England and the RNLI in 2013. Swim Safe outdoor swimming and water safety sessions take place every summer and are delivered to school groups at both coastal and inland locations.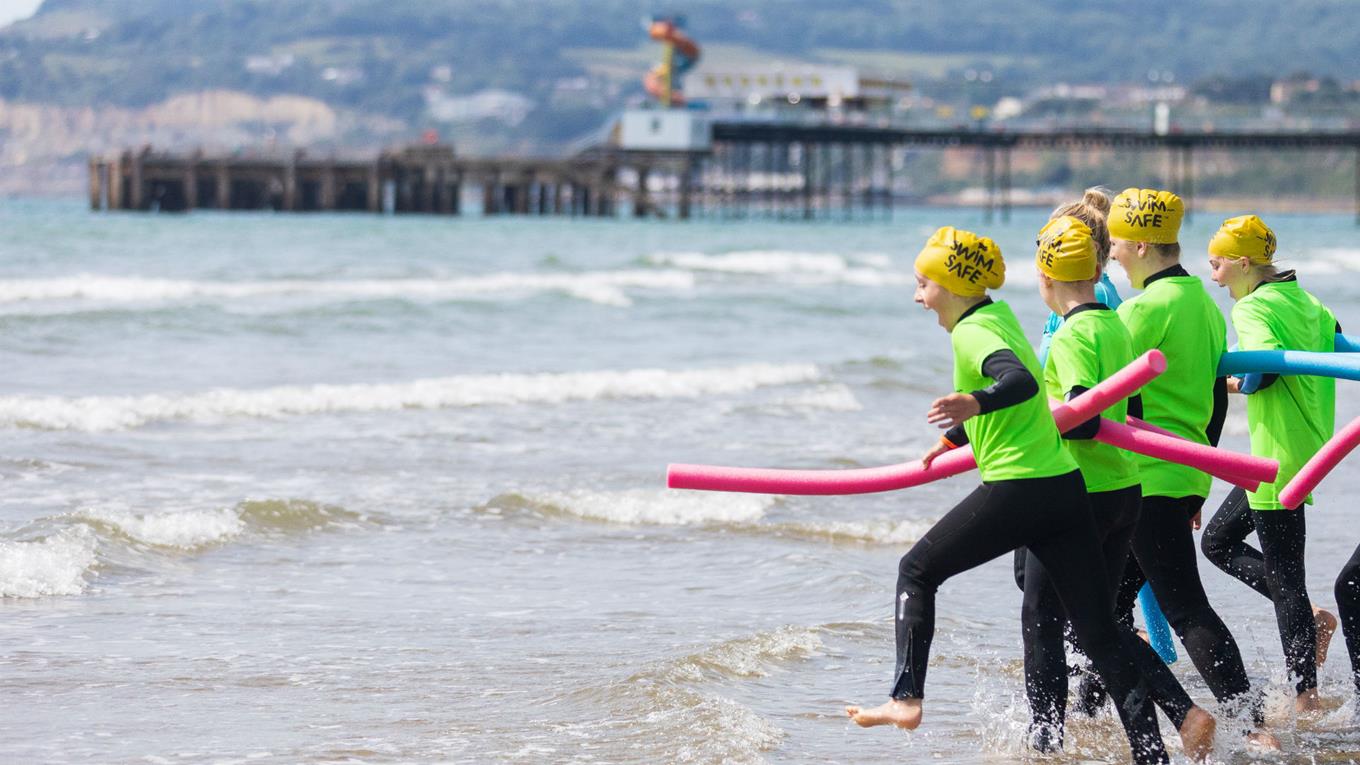 What's included?
Children get to enjoy a fun, structured swimming session at a choice of open water locations – and learn all about how to stay safe.
The 60-minute session is run by qualified lifeguards and instructors, and includes:
Beach safety advice provided by qualified lifeguards on land.

Up to 30 minutes in-water tuition with qualified instructors.

All the right kit for swimming outdoors (including swimming hats, wetsuits, and swimming aids).
Who can attend?
Swim Safe is open to children aged 7-14.
To take part, they must be able to swim a minimum of 25m. This is usually achieved around Stage 4 of Swim England's Learn to Swim Pathway.
A parent, guardian or teacher must be present throughout the session.
To register your interest in Swim Safe, fill in our online form on the Swim England website.
Why is Swim Safe needed?
Whether by the sea, river or lake, the skills involved in safe outdoor swimming are different to those indoors, where most swimming lessons take place.

Swim England and the RNLI are working with the national governing bodies for swimming in Scotland, Wales and Northern Ireland – along with local partners – to make Swim Safe sessions available to more children around the UK.

Since launching with a single site in 2013, Swim Safe has grown to include more than 30 sites across England, Scotland, Wales, the Channel Islands and the Isle of Man.
School Resources
We've got a host of fantastic and colourful resources for you to deliver a fun-filled lesson on outdoor water safety – as well as information for parents to be shared through noticeboards, email, newsletters, social media, and so on.

Download all the tips and resources you need to help teach children the importance of staying safe while swimming outdoors. Note: Videos are embedded within the PowerPoint packs.
School Assembly presentation - PowerPoint 3.3MB
School information pack, daily risk assessment and consent form – PDF 672KB
Lesson plans:
Activity sheets:
Handouts:
Other resources:
The RNLI has a host of
other educational materials
that provide curriculum content and help with lesson planning.
Book a water safety education visit:
The RNLI also has a team of education volunteers, who can come and visit you in your school at any point in the academic calendar. To book a visit, please
fill in the request form
.
Frequently asked questions
Can I bring pupils who aren't yet able to swim 25 metres?

Due to Health and Safety, children who do not meet the participation criteria of being able to swim 25m are still invited to come along to the Swim Safe session but will only be able to take part in the activities on land.
What kit do the pupils need to bring?

Pupils will need to bring:

swimwear (preferably already on under clothes)
a towel
old trainers to wear up to the water's edge
sun cream and sun hat if applicable (sun cream should be applied and thoroughly rubbed in at least 30 minutes before entering the water)
any medication
warm clothing for after the session (within school guidelines)
a bottle of water
snack for after the session.

A full-length wetsuit will be provided for each pupil along with swim caps and fluorescent rash vests.
What parental consent is needed for pupils to attend?

Parents/guardians need to consent to the following for each participating child:

Child's swimming ability (children must be able to swim at least 25m to take part).

We have a standard parental consent form that you can use which is in the downloadable school information pack - PDF 672 KB.
What time do we need to arrive by before the session starts?

Please arrive 10 minutes before the session start time.
What will pupils get to keep on the day?

Children will get to keep their Swim Safe swim hats along with a safety messaging keyring, certificate and cloth badge.
Sun protection?

Sun cream and sun hat must be provided by the parent/guardian if needed. Sun cream should be applied and thoroughly rubbed in at least 30 minutes before entering the water.
How many school staff need to be available to support?

We recommend that you bring along the number of support staff that your current school trip guidelines specify.